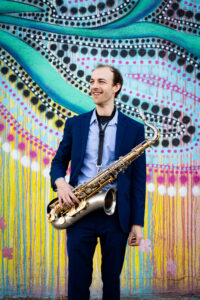 Music Director - Erik Johnson
is a multi-instrumental performer, producer, educator, composer, and conductor. Born into a musical family just northwest of Detroit, he studied classical clarinet performance and composition at Western Michigan University. After graduate school at Ithaca College in New York, he took his backgrounds in classical, jazz, pop, electronic, and world music practices to tour throughout the United States and Canada. His talents on horns, keyboards, vocals, and arranging ensembles can be heard on 17 albums. Erik has taught in Montessori systems, other group lesson organizations, and offered masterclasses in music theory, composition, performance practice, pedagogy, and dance.
Resettling in Colorado in 2018, he began working with the School of Rock, as well as the UCC in Longmont as a choral director while performing in a variety of ensembles across the state. Currently he's the music director at the UCC in Aurora, runs his own private music studio in Denver, and just this winter was appointed a position with the Denver Philharmonic for their 2023-2024 season.