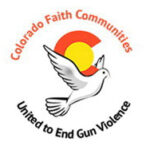 At Mountain View United Church, we are propelled by our collective belief in the sacredness of human life and the call to take action to protect and preserve it.
Mountain View United Church is part of the Colorado Faith Communities United to End Gun Violence, a growing coalition of Colorado faith congregations and organizations that include the Abrahamic and other faith traditions working together to support legislation and policies at the state and national level designed to reduce the current levels of violence arising out of the improper use of firearms.
Mountain View United Church and its entire campus is a gun-free zone.