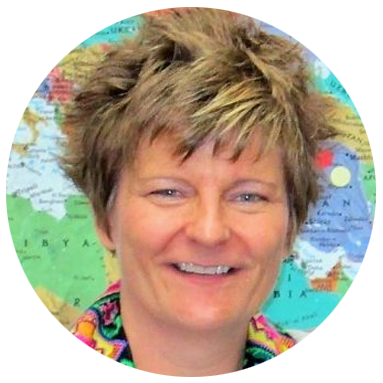 Rev. Dr. Tracy Hughes, Lead Minister, brings to Mountain View United Church 20 years of experience as an ordained minister in the United Church of Christ, and faith-based peacemaking with Common Global Ministries spanning 20+ years. She has worked with children, refugees, teens, families, elders, immigrants, people caught in the cycle of homelessness, women and children fleeing violence, and rural farmers in places of war. As part of her unique faith journey she has lived in two Catholic Worker communities, joined The Christian Peacemaking Teams in 2000, and served in pastoral leadership in 9 United Church of Christ congregations.
Pastor Tracy, as she is affectionately known by church folk, has been part of church since she was baptized in a Congregational church in Connecticut and was part of the children's choir at First Presbyterian Church in Tiffin, Ohio. She is a big fan of retreats and summer camp for children, youth, and families.  Templed Hills and Pilgrim Hills, UCC camps in Ohio, were a large part of her formative years and as a youth leader at her home church. Pastor Tracy served as camp director of basketball camps, and counselor for confirmation retreats in those same sacred hills.Pastor Tracy earned her Master of Divinity from Eden Theological Seminary, 1998 and her Doctor of Ministry from Catholic Theological Union, 2013.
Pastor Tracy's call to ministry is rooted in Micah 6:8: "What does the Lord require of you?  To do justice, love kindness, and walk humbly with your God."
In her own words: I've taken my baptismal and confirmation vows and the teaching of Micah 6:8 to heart.  I have been blessed because this led me to ministry in many places and cultures around the world. I have had the experience of sharing in church communities in Latin and South America, Palestine, Africa, and the Desert Southwest of the USA. I've learned that the Body of Christ is a living breathing reality because of the Christians I've worshiped, worked, and lived with in these places. I've met God in the faces of Muslims, Jews, indigenous peoples, and people of other traditions. For me, these relationships and communities define what faith-filled living and church is much about – experiencing God's love in community with both neighbors and strangers. Consequently, these experiences led me right back to the local church in places like my home town, Tucson, and now, Aurora. This is because there is no global church without the local church and there is no local church without mission in their communities and the world.
Contact me at: [email protected]